If you haven't activated the navigation in your Media Nav System yet, please follow the next steps:
1. Select "Setting" on your device.

2. Set the status of the "Navigation" to "On".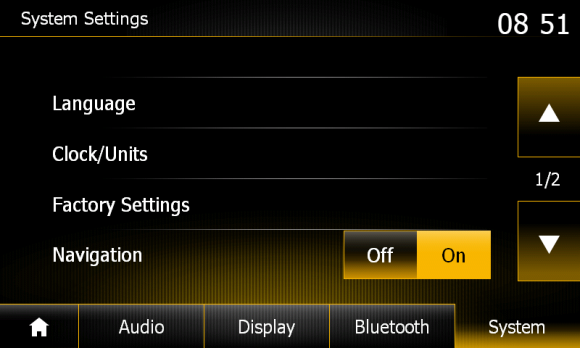 3. Create a fingerprint of your device, as described in these instructions.
4. On your PC, visit renault.naviextras.com and download the Renault Media Nav Toolbox software, which is required for the purchase. You can find further installation instructions here.
5. Register on the website, and log in to Renault Media Nav Toolbox.
6. In Renault Media Nav Toolbox, click the "Catalogue" button in the menu bar on the left hand side. Here you can purchase the navigation software license, which is needed for using your navigation software. If you don't know how to make the purchase, please read this guide.
7. After purchasing this license, the map packages will become available. Please note that the purchase of this licence entitle you only to use your navigation software, but it doesn't contain any maps.
If the purchase was successful, your navigation is ready to use.